For Rare Nevi location, see The Mirage: Rare Nevi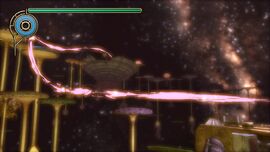 The Mirage is the third and final Rift Plane featured in Gravity Rush. It is the place where the missing piece to Endestria and the third piece to Hekseville was located.
Kat first visits The Mirage during the mission "Episode 10: Curiosity Killed the Cat" while she's in Endestria. She finds Gade again so that she can gain access to the last rift plane in order to retrieve the last piece to Hekseville and restore everyone's spirit; however, once she enters the rift plane, she notices her shifting powers are compromised. She acknowledges that something is wrong with Dusty, though doesn't know specifically, but still tries her best to make it through the rift plane with the limitations.
The master of this area is a Lagan nevi.
Within The Mirage, after coming across the third power tree, Kat learns her third and final special attack, Micro Black Hole.
With Kat's shifting powers limited (during the story mission), she makes her way through the rift plane mostly by jumping and shifting to floating plant-like objects that lead her to the ground surfaced areas where the nevi and rift flowers are on. The plant-like objects will mostly act as open platform based paths for Kat to traverse, with some having special properties—elevation and depression, locomotion, and spinning.
This is the only rift plane that substitutes the original master with a different one—a Giagaco replaces the Lagan—upon revisiting.
If you revisit this rift plane, Dusty will not be sick and your powers will not be limited.
Interesting, the green plant and mushroom-like plant may be based on the Pilea peperomioides and shiitake, respectively.