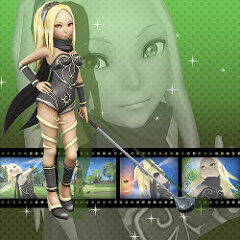 "

Kat is very much intrigued with her discovery of golf, and is gravitating to the sport with a great deal of curiosity.

— Kat's bio summary 

"
Kat appears as a downloadable golfer in the PlayStation Vita version of Hot Shots Golf 6: World Invitational[1] (known as Everybody's Golf everywhere else), which was developed by Clap Hanz, and published by Sony Computer Entertainment.
She was released along with Gloria and Erica (separately or bundled) some time in 2013, in addition to two new courses. Her maid costume is also available to download.
Profile
[
]
The Gravity Queen
"Though amnesia stole her identity, she's earned the nickname "Kat" thanks to her constant companion, Dusty the gravity cat. She gives her all to help her town--with varying success... But she's ever upbeat and curious, and this time gold has caught her eye!" - Kat's in-game profile
| | |
| --- | --- |
| Age: | ? |
| Country: | Unknown |
| Height: | 160cm? |
| Weight: | ?kg |
| Likes: | Long baths |
| Dislikes: | Sarcastic people |
Statistics
[
]
"

Expert power character, joining us from GRAVITY RUSH. Strong all around, with an ace approach. Shot: fade.

— Kat's in-game description 

"
Kat is categorised as an Expert golfer. She has excellent power even with standard gear. Her shots also have very good spin capabilities, but control and impact are quite lacklustre.
| Attribute | Grade (with Standard Gear) |
| --- | --- |
| Power | 271 yards |
| Control | 2/6 (C) |
| Impact | 1.6/6 (D) |
| Spin | 4/6 (A) |
| Sidespin | 3/6 (B) |
How to use Kat
[
]
Kat is ideal to play as on relatively short courses due to having great shot power even without enhancements, or any course that has gentle corners, thanks to her spin capabilities.
With the right gear, Kat can have a lot of power behind her shots; with the second strongest shot in the game (second only to Max),she can very easily achieve a 300+ yard drive right off the tee. However, her already lacklustre Control and Impact are further diminished with a Big Air club and ball. Because her Spin stats are quite good, Kat can also pull off Spiral, Homing, and Rising shots more easily than most, even more so with Big Spin gear. Any gear that improves Impact can make spin shots much easier.
Other
[
]
Upon downloading the additional content, new cosmetic items for your lobby character are added to the customisation menu. These items will include all parts bearing Kat's likeness, with Dusty being an accessory.
Gallery
[
]
Trivia
[
]
Her companion, Dusty, makes a cameo appearance as an accessory for the lobby character, and in one of her winning animations after scoring a birdie.
Some parts of Kat's bio are unknown, but later revealed in light of Gravity Rush 2; she was from Eto, and she was 17 years old from the game's outset.
References
[
]