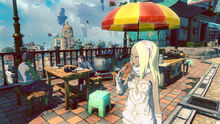 Jirga Para Lhao is a featured location in Gravity Rush 2. It serves at the primary setting for the game's second chapter.
Geography
Much like Hekseville, Jirga Para Lhao is a large, thriving metropolis that consists of a series of islands. Unlike the former location, however, the islands of Jirga Para Lhao are not attached to the World Pillar, instead simply floating suspended in mid-air.
There are four layers to Jirga Para Lhao. In the order the player encounters them throughout the story, they are as follows:
History
Per the Jirga Para Lhao Sights photo collection, according to local legend, JIrga Para Lhao was first visited by a deer-headed god simply called the "Traveler's God." (It is unspecified if this god is the same as the war god mentioned in the Tosmolo Sea Horse Statue photo.)
Lisa states that the city was occupied by the Lhao tribe for many years, until they were driven out. The photo collection reveals that a man named Radale was credited with defeating the Lhao tribe.
Photos