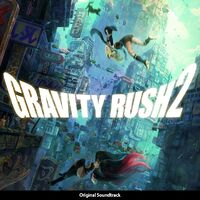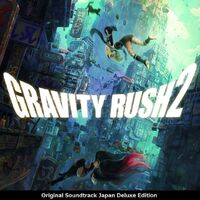 The Gravity Rush 2 Original Soundtrack is a collection of music composed by Kohei Tanaka from the 2017 video game Gravity Rush 2. The standard edition soundtrack was released digitally alongside the game on January 20, 2017 in North America, and it consists of 15 tracks.[1] It is also available over at the PlayStation Network for $11.99.
In addition to the standard edition, the Gravity Daze 2 Original Soundtrack CD Album from Japan containing 73 tracks across 4 CD's was translated and released digitally as the Gravity Rush 2 Soundtrack Japan Deluxe Edition in North America on February 22, 2017, also composed by Kohei Tanaka.[2][3]
Both versions are available on both iTunes and Amazon Music.
Tracklist (Standard Edition)
[
]
| # | Track Name | Composer | Length |
| --- | --- | --- | --- |
| 01 | Gravity Rush 2 | Kohei Tanaka | 2:17 |
| 02 | Storm and Triumph | Kohei Tanaka | 6:51 |
| 03 | Fire-Bound Lions | Kohei Tanaka | 3:12 |
| 04 | Lei Colmosna | Kohei Tanaka | 3:46 |
| 05 | Night Gale | Kohei Tanaka | 4:46 |
| 06 | Candlelit Journey | Kohei Tanaka | 3:23 |
| 07 | The Lost City | Kohei Tanaka | 3:33 |
| 08 | Pleajeune (Revisited) | Kohei Tanaka | 3:16 |
| 09 | Hot Pursuit | Kohei Tanaka | 2:06 |
| 10 | Under Invasion | Kohei Tanaka | 5:17 |
| 11 | Angel | Kohei Tanaka | 4:35 |
| 12 | Fate's Spiral | Kohei Tanaka | 3:13 |
| 13 | Gravity Rush 2 (Harmonica) | Kohei Tanaka | 2:59 |
| 14 | Fundamental Forces | Kohei Tanaka | 5:14 |
| 15 | A Cue aun Tu Oi/A Red Apple | Kohei Tanaka | 3:23 |
Download
[
]
Tracklist (Japan Deluxe Edition)
[
]
Disc One
[
]
| # | Track Name | Composer | Length |
| --- | --- | --- | --- |
| 01 | Gravity Rush 2 | Kohei Tanaka | 2:17 |
| 02 | Calamity | Kohei Tanaka | 2:13 |
| 03 | Troubled Heart | Kohei Tanaka | 2:50 |
| 04 | Return to Port | Kohei Tanaka | 1:04 |
| 05 | Banga | Kohei Tanaka | 4:42 |
| 06 | Ill Omen | Kohei Tanaka | 2:21 |
| 07 | Double Finisher | Kohei Tanaka | 0:25 |
| 08 | Set Sail | Kohei Tanaka | 2:28 |
| 09 | While You Work | Kohei Tanaka | 2:40 |
| 10 | Storm and Triumph | Kohei Tanaka | 6:51 |
| 11 | Respite | Kohei Tanaka | 2:51 |
| 12 | Enchanted Zone | Kohei Tanaka | 3:17 |
| 13 | Fight Gravity | Kohei Tanaka | 6:42 |
| 14 | Contemplation | Kohei Tanaka | 2:33 |
| 15 | Fire-Bound Lions | Kohei Tanaka | 3:12 |
| 16 | Gnawing Suspicion | Kohei Tanaka | 0:36 |
| 17 | Worthy Adversary | Kohei Tanaka | 2:40 |
| 18 | Gnawing Suspicion (Variation 1) <Bonus Track> | Kohei Tanaka | 0:37 |
| 19 | Gnawing Suspicion (Variation 2) <Bonus Track> | Kohei Tanaka | 0:37 |
| 20 | Gnawing Suspicion (Variation 3) <Bonus Track> | Kohei Tanaka | 0:38 |
Disc Two
[
]
| # | Track Name | Composer | Length |
| --- | --- | --- | --- |
| 01 | Call to Ships | Kohei Tanaka | 0:35 |
| 02 | Lei Colmosna | Kohei Tanaka | 3:46 |
| 03 | Portolhao Market | Kohei Tanaka | 4:40 |
| 04 | Restless Frustration | Kohei Tanaka | 1:36 |
| 05 | Tranquil Mine | Kohei Tanaka | 2:24 |
| 06 | Lei Elgona | Kohei Tanaka | 2:37 |
| 07 | Night Gale | Kohei Tanaka | 4:46 |
| 08 | A Cue aun Tu Oi/A Red Apple (Accordion) | Kohei Tanaka | 1:03 |
| 09 | Candlelit Journey | Kohei Tanaka | 3:23 |
| 10 | Lei Havina | Kohei Tanaka | 2:27 |
| 11 | Under Orders | Kohei Tanaka | 1:35 |
| 12 | Infiltration | Kohei Tanaka | 1:57 |
| 13 | Fort Bismalia | Kohei Tanaka | 1:43 |
| 14 | The Lost City | Kohei Tanaka | 3:27 |
| 15 | Call to Ships (Variation 1) <Bonus Track> | Kohei Tanaka | 0:36 |
| 16 | Call to Ships (Variation 2) <Bonus Track> | Kohei Tanaka | 0:37 |
| 17 | Call to Ships (Variation 3) <Bonus Track> | Kohei Tanaka | 0:38 |
Disc Three
[
]
| # | Track Name | Composer | Length |
| --- | --- | --- | --- |
| 01 | Auldnoir (Revisited) | Kohei Tanaka | 3:14 |
| 02 | Pleajeune (Revisited) | Kohei Tanaka | 3:16 |
| 03 | Endestria (Revisited) | Kohei Tanaka | 2:08 |
| 04 | Vendecentre (Revisited) | Kohei Tanaka | 2:08 |
| 05 | Hot Pursuit | Kohei Tanaka | 2:06 |
| 06 | March of the Dead | Kohei Tanaka | 5:56 |
| 07 | Level Four Alert | Kohei Tanaka | 4:38 |
| 08 | Down in the Trench | Kohei Tanaka | 1:52 |
| 09 | Under Invasion | Kohei Tanaka | 5:17 |
| 10 | Angel | Kohei Tanaka | 4:35 |
| 11 | Double Finisher (Failed) | Kohei Tanaka | 0:26 |
| 12 | Geometric Rift | Kohei Tanaka | 2:24 |
| 13 | Fate's Spiral | Kohei Tanaka | 3:13 |
| 14 | Gravity Rush 2 (Harmonica) | Kohei Tanaka | 2:59 |
| 15 | Faster and Higher | Kohei Tanaka | 1:35 |
| 16 | Qualify <Bonus Track> | Kohei Tanaka | 0:10 |
| 17 | Mission Complete <Bonus Track> | Kohei Tanaka | 0:10 |
| 18 | New Record <Bonus Track> | Kohei Tanaka | 0:11 |
| 19 | Game Over <Bonus Track> | Kohei Tanaka | 0:13 |
Disc Four
[
]
| # | Track Name | Composer | Length |
| --- | --- | --- | --- |
| 01 | End of the World | Kohei Tanaka | 1:45 |
| 02 | Eto | Kohei Tanaka | 1:28 |
| 03 | Locked Away | Kohei Tanaka | 2:16 |
| 04 | A Cue aun Tu Oi/A Red Apple (Music Box) | Kohei Tanaka | 0:50 |
| 05 | Memories in the Brink | Kohei Tanaka | 2:18 |
| 06 | Electromagnetic Queen | Kohei Tanaka | 3:14 |
| 07 | Fundamental Forces | Kohei Tanaka | 5:14 |
| 08 | Despair | Kohei Tanaka | 1:50 |
| 09 | All to Dust | Kohei Tanaka | 7:21 |
| 10 | A Cue aun Tu Oi/A Red Apple (Chant) | Kohei Tanaka | 1:06 |
| 11 | A Cue aun Tu Oi/A Red Apple | Kohei Tanaka | 3:23 |
| 12 | Gravity Rush (Ending) | Kohei Tanaka | 3:37 |
| 13 | Breaking Gravity | Kohei Tanaka | 0:40 |
| 14 | Labyrinth of Memories | Kohei Tanaka | 2:54 |
| 15 | Light and Dark | Kohei Tanaka | 4:24 |
| 16 | Blan Slate Monster | Kohei Tanaka | 6:43 |
| 17 | A Cue aun Tu Oi/A Red Apple (Instrumental) <Bonus Track> | Kohei Tanaka | 3:23 |
Download
[
]
See Also
[
]
References
[
]