The camera is a device used by Kat throughout Gravity Rush 2.
History
[
]
When the Banga settlement arrives in Jirga Para Lhao, Syd gives Kat a camera, which he found and fixed himself. The camera can then be used to take photos of various sights and people around the world of Gravity Rush 2, uploading them for review by other players if they wish.
The camera comes into play during a few missions, such as Like a Radio, in which Kat covertly takes photographs of Fort Bismalia, or in the side mission, One Day this Crush Will End, where she snaps pictures of a possibly-unfaithful boyfriend as he talks to women around town.
Additionally, the camera is used to take photos of treasure for Treasure Hunts, as well as for the collection challenges. Moreover, any photos taken with the camera are automatically stored in the player's Capture Gallery on their PS4 system.
The camera also comes with a tripod mode which allows Kat to take selfies. She can pose using various gestures that are gradually unlocked through completing Treasure Hunts, and these photos can also be uploaded for review. Kat can also use the camera to change outfits. Raven can also use the camera, but she cannot use any of the gestures.
Features
[
]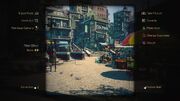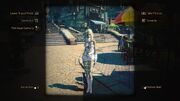 Tripod Mode - Allows Kat to take selfies. (Limited distance.)
Take Picture - Allows Kat to take pictures, which applies in Tripod Mode as well.
Change Costumes - Allows Kat to change into any of her costumes. See the Costumes page for more details.
Zoom In - Allows Kat to zoom in for shots.
Zoom Out - Allows Kat to zoom out for shots.
Photo Item - Allows Kat to select from various props that she can summon and use for photos.
Crouch - Allows Kat to crouch. (She can move while crouching.)
Filter Effect - Allows Kat to change the filter of the camera for different visual effects for photos.
Collection - Storage for Saghassi's Paintings, Jirga Para Lhao and Hekseville Sights, and Men's and Woman's Portraits.
Picture Roll - Storage for all photos taken.
See Also
[
]